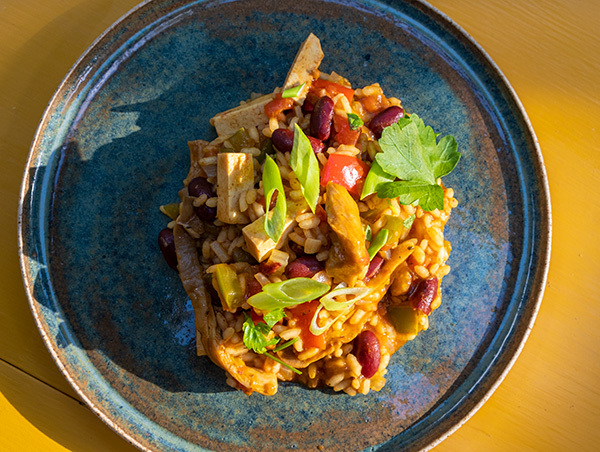 This is by no means a traditional, however tasteful version of jambalaya. This dish has its origin in Louisiana, a southern state in North America. In the eighteenth century, a large group of French-speaking exiles from Canada came to live here, the Acadians. They later became known as the Cajun. Over the past 250 years, the composition of the Cajun population has become tremendously mixed. In addition to people of French ethnicity, it became a melting pot of people of Spanish, Irish, German, native-American, Filipino, and African descent.
Like the people, the culture and cuisine of the Cajun are a colorful blend. New Orleans, the capital of Louisiana, is known for its fantastic music, its extravagant carnival celebrations, and most of all its delicious cuisine. One of the most famous dishes is jambalaya. The preparation of this rice dish finds its roots in French (Provincial) and Spanish cuisine, but the use of spices has a strong American and African influence. Jambalaya is a fantastic culmination with enormous flavor. Our version has been remixed further and is a vegetarian one.
There are quite a few ingredients that go into jambalaya, but it's actually a pretty simple dish. It is very similar in preparation to making paella or risotto. You can alternate with the ingredients, for example by adding corn, carrot, or okra or replacing it with another ingredient.
Jambalaya
Main course for 4 persons
20 minutes preparation, 35 minutes cooking
Ingredients
250g oyster mushrooms, cut into strips
0.5 tbsp Bold Spices Cajun spice mix
0.5 tbsp soy sauce
4.5 tbsp oil, separated
1 piece smoked tofu, diced or sliced
2 tbsp oil
1 green bell pepper
2 large / 3 medium celery stalks
1 large onion
0.5 tsp salt
4 garlic cloves, crushed and cut into pieces
1.5 cup risotto rice (300g)
1.5 tsp Cajun spice mix (more or less to taste*)
1 can of diced tomatoes
1L (vegetable) broth, can be from a tablet
5 bay leaves
1 red bell pepper, cut into 1cm by 1cm cubes
2/3 can kidney beans, drained
2 tsp smoked paprika
0.5 tsp freshly ground Bold Spices Tellicherry pepper, or more to taste
Salt to taste
4 tbsp flat leaf parsley, chopped small
Instructions
Slice the oyster mushrooms into strips and put them in a bowl with the Cajun spice mix, soy sauce and half a tablespoon of oil. Mix well and let stand.
Cut the bell bell pepper, celery stalks and onion into about the same size small cubes and set aside.
Then cut the rest of the ingredients that need to be cut and make sure everything is ready.
Heat a large pan with a good, thick bottom and add 0.5 tbsp oil. Cook the oyster mushrooms over medium-high heat, stirring occasionally, for about 5 minutes until tender. Then remove them from the pan and place them back in the bowl in which they marinated.
Add 0.5 tbsp oil to the pan and fry the tofu for about 4 minutes on all sides. Remove this from the pan as well and place it in the bowl with the oyster mushrooms.
Add 2 tbsp oil to the pan and add the chopped bell bell pepper, celery and onion. Add 0.5 tsp of salt and cook for about 7 minutes, stirring occasionally, until al dente.
Then add the garlic and risotto rice. Keep stirring and add a little more oil if necessary. By frying the rice for a moment, hairline cracks will form and it will cook more quickly. Fry for about 1 minute and add the Cajun spice mix.
Then add the diced tomatoes and fry for 20 seconds. Then add the broth and bay leaves to the pan and bring everything to a boil. Stir frequently and make sure you go over the bottom of the pan well with a flat spatula so it doesn't burn. Cook for 5 minutes.
Add the red bell bell pepper and kidney beans and fry/cook for 10 minutes while still stirring frequently. You might need to add a little liquid (broth or water) in case it gets a little too dry. It should not be completely submerged after 10 minutes, but it should not boil dry either. It's okay to be a little moist.
Then add the oyster mushrooms, tofu, smoked paprika and pepper and stir for about three minutes. Keep an eye on the moisture level.
Now comes an important moment: tasting! Does it need anything else? A little more spice or flavor? Add some cajun mix. Maybe some salt. Is the rice done? Maybe leave it on for another minute or two.
If everything is to your liking then turn off the heat. Let it stand for a minute and add the pepper and parsley. It is now ready to serve.
Enjoy your meal! Serve with an ice cold beer, and some hotsauce for the heat enthusiast.
* If you don't like spicy food so much, use 1 tbsp cajun spice. To give the dish more flavor you can add 1 tsp oregano, 1 tsp thyme and 1tsp smoked paprika.