This is one of our favorites, especially on colder days. It's plant-based, healthy, easy to make and simultaneously completely heartwarming comfort food. I call it soup, but should not sell it short; it is a full meal.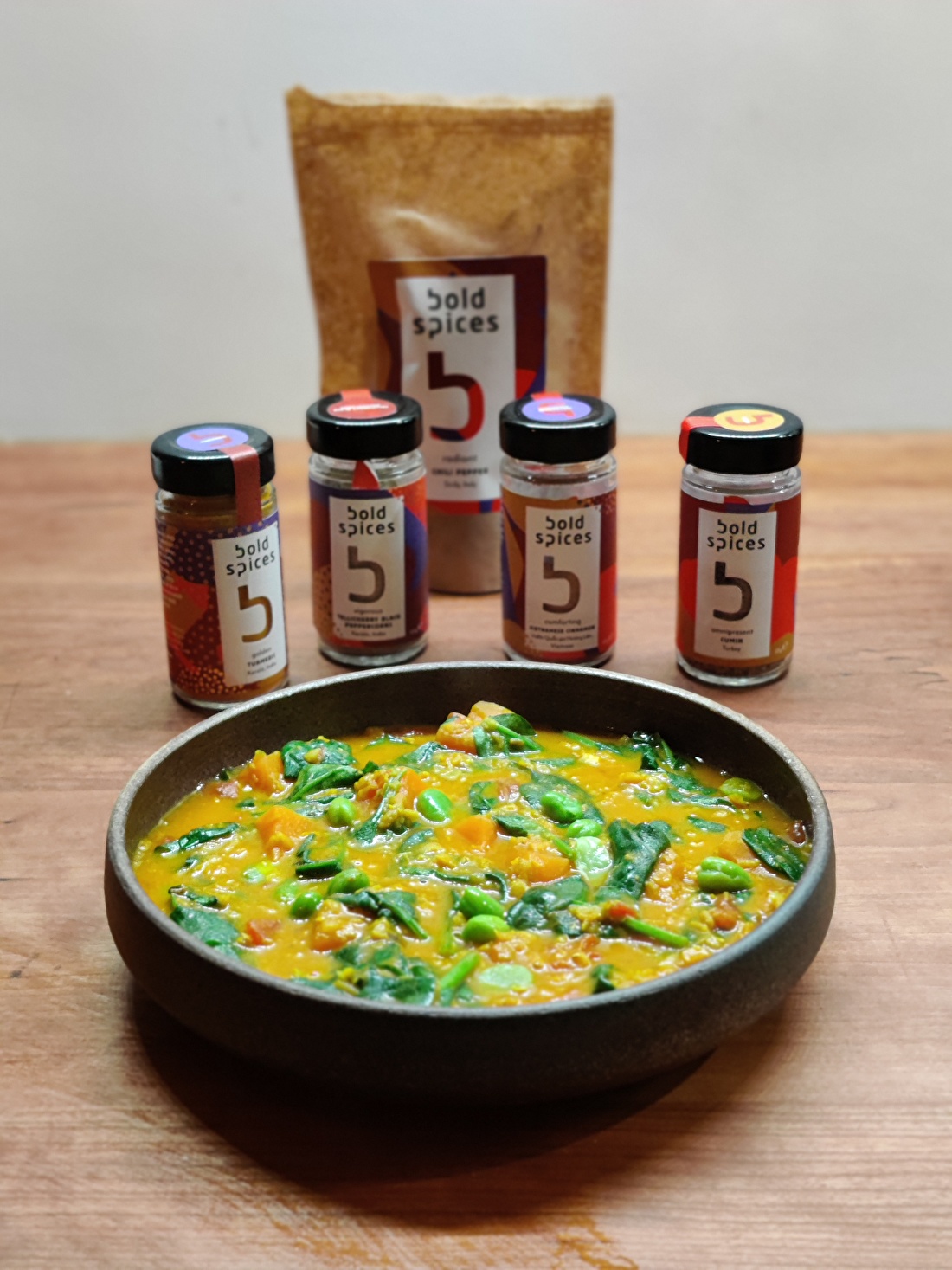 Heartwarming lentil coconut soup
Serves 3-4 and takes about 30-35 minutes to make.
Ingredients
2 tbsp coconut oil
1 large onion, chopped
2 cloves of garlic, chopped
1 tsp turmeric
3 tsp cumin, grind it up in a pepper mill or Hario grinder (they work sooo well for spices!) to get 2 tsp of ground cumin
0,5 tsp cinnamon
4 cardamom pods, crushed
5 cm of ginger, cut lengthwise into three chunks
1 or 2 dried chilis, crushed, or cayenne pepper to taste
1 can (400 gr) diced tomatoes
1 can (400 gr) full-fat coconut milk
150 grams uncooked red lentils, rinsed and drained
2 sweet potatoes
600 ml vegetable broth (can be instant)
0,5 tsp sea salt
200 grams broad beans from the freezer, double-shelled if you have the energy or else just with the pale green skin
Freshly ground Tellicherry pepper
150 gram baby-spinach
1 lime
Directions:
In a large pot with a thick bottom, add the oil, onion, and garlic. Add a pinch of salt, stir, and sauté over medium heat until the onions are completely soft, for 6-8 minutes.

Stir in the turmeric, cumin, cinnamon, cardamom, and ginger. Stir frequently and let it cook for about 1 minute, until fragrant.

Add the diced tomatoes (with juices), coconut milk, red lentils, broth, salt, and plenty of pepper. Add dried chilies or cayenne, if desired, to taste. Stir to combine. Increase heat to high and bring to a low boil.

Once it boils, reduce the heat to medium-high, and simmer, uncovered for five minutes. Meanwhile, peel the sweet potatoes and cut into pieces of about 1,5 cm. Add them to the lentil mixture once that has been going for five minutes.

After about 13 – 15 minutes, check if the lentils are fluffy and tender and the potatoes are almost done.

Add the broad beans and let simmer for another minute or two.

Turn off the heat and try to pick out the ginger and potentially the cardamom and dried chilies.

Stir in the spinach until wilted. Taste and add more salt and pepper if desired. Ladle into bowls and serve with toasted bread and lime wedges to squeeze over the soup to taste.
Inspired by a recipe of the fantastic ohsheglows.