Jackfruit is gaining popularity as a meat replacement in many hip cafes and restaurants. Its meaty texture and ability to soak up flavors make it great for stews, for example. In Indonesia, where this majestic fruit grows, it does not need to be hip as it is just part of the national cuisine. We are very delighted that our friend Austi (follow her on Instagram), who grew up in Indonesia, created this amazing flavorful jackfruit curry recipe for us. If you live in the Netherlands, you should be able to find most ingredients at a toko or larger supermarket. It may be quite a long list of ingredients, but it is actually fairly easy to make!
Kari Nangka (Indonesian jackfruit curry)
1 hour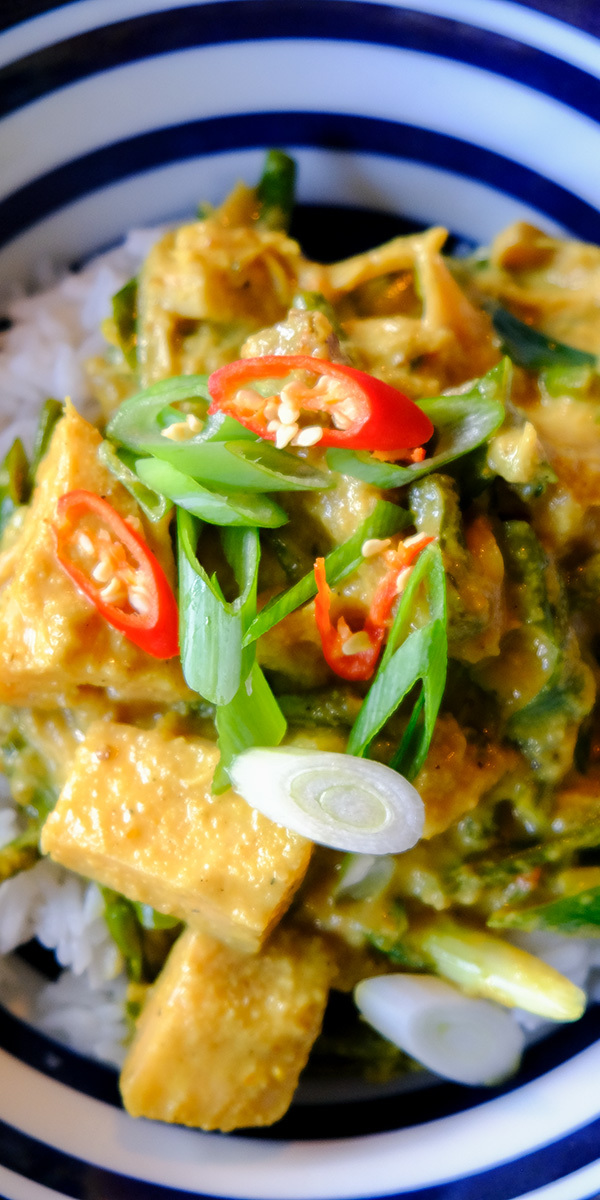 Approximately 4-6 people
Ingredients
2 large cans of jackfruit, or about 550 grams of fruit. Fresh is always better, but it's difficult to get in Europe.
200 grams of green beans or long beans
2 kaffir lime leaves
3 salam leaves (ideally fresh, if you can get your hands on them)
1 piece of lemongrass
1 big yellow onion
1 red onion
2 spring onions
5 big cloves of garlic
1 piece of fresh ginger, about 4cm
1 piece of fresh laos (galanga root), about 20 grams
1 tsp of ketoembar (coriander seeds)
1 fresh red chili (e.g. Lombok, or bird's eye. Add more if you want to make it Indonesian spicy )
1 dried red chili
1 tsp turmeric
400 ml of rich coconut milk (15-20% fat)
3 tbsp oil
½ tsp salt
½ tsp Bucay pepper, freshly ground
1 bouillon cube
1 tsp of kecap manis (sweet soy sauce)
½ tsp MSG*
Preparation
Prepare your blender or food processor
Chop the onions in large pieces
Add the onions, garlic, ketoembar, chili to the blender or food processor, along with a bit of water so that it becomes a sauce. Let the blender run for a few minutes so all the parts are very fine.
Smash the ginger, laos, and lemongrass with a pestle or a heavy pan. Cut the lemongrass in three equal parts.
Add the oil to a big pan, heat it up, and add the ginger, laos, lemongrass, salam leaves, and kaffir lime leaves and fry them for about three minutes.
Add the turmeric and let if fry for about a minute.
Add the ingredients from the blender to the pan. Be careful as the water might cause some splattering. Let it simmer for 5 minutes.
Drain the jackfruit and cut it into pieces of about 2/3 cm
Add the coconut milk, bring it to a boil, and add the jackfruit
Add the salt, Bucay pepper, bouillon cube, kecap manis, and MSG
Let it simmer on low heat for 20 minutes. Stir regularly.
Add the green beans and let it simmer for another 5 minutes
Add two chopped spring onions and let it simmer another 5 minutes.
Before you serve it, you can try to find the lime leaves, Salam leaves, ginger, laos and lemongrass and take them out as they are not supposed to be eaten.
Serve on rice.
Selamat makan!
*MSG may have a bad reputation to some people, but we believe this is mostly due to bad science and racially motivated politics. See for example fivethirthyeight's article about this.