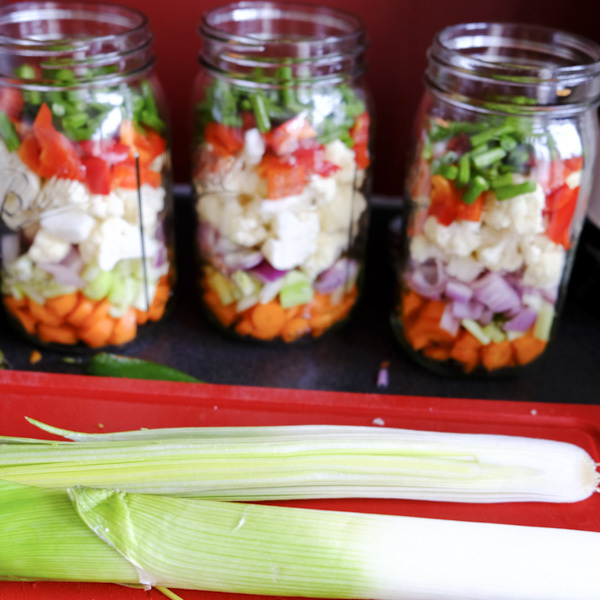 Fermented vegetables are not just good for your gut, they are also pretty darn tasty! Giardiniera is originally an Italian way of pickling vegetables but got quite popular in the US. It is very flavorful, has a great crunch and is also quite simple to make. You can eat it on a sandwich, in salads, or as a little snack.
This is especially a great recipe to make in summer when there's an abundance of good and local vegetables available. Just pick whatever you think is going to be tasty!
Fermentation does not have to be scary – a lot of our food is actually fermented. Think of yoghurt, wine and beer, sauerkraut, tempeh, sourdough bread, kimchi, etc.
When you are new to fermentation it might be good to read up a little bit about the basics. What is important to remember for this specific recipe is that you need some way to release the carbonation from the fermentation jar. The naturally occurring lactic acid bacteria that facilitate the fermentation process produce CO2 as a byproduct. This will build up quite some pressure and can cause glass jars to explode. Other than that, you should be fine :D
This recipe is based on Brad Leone's video on Giardiniera, which can be quite helpful (and entertaining) to watch if you decide to make this recipe.

Giardiniera
for a large jar, or 3 smaller ones
1 hour preparation, 4-5 days fermentation
Ingredients
Vegetables
4 cloves of garlic
½ head of cauliflower
4 medium-sized carrots (different colors are fun!)
2 large red onions
1 leek
bunch of green beans
1 red or yellow pepper
5 stalks of celery
1 jalapeno or another spicy pepper
For the liquid
2L water
70gr salt (3.5% of the amount of water you use)
1 tbsp coriander seeds
1 tbsp dried oregano
1 tsp Tellicherry pepper
1 tsp cayenne pepper
6 bay leaves
optional
1 tsp fennel seeds
1 tsp mustard seeds
1 tsp celery seeds
For finishing
¼ cup (60 ml) vinegar
3½ tbsp sugar
Instructions
Preparations
Clean your fermentation pot and lid really well.
Add the water and salt to the fermentation pot and make sure it is all dissolved.
Add all the herbs and spices to the water.
Smash the garlic cloves and take the peel off.
Wash the vegetables.
Chop all the vegetables into bite-sized pieces.
Add everything to the fermentation pot.
Fermentation
Make sure that all vegetables are submerged under the liquid. Floating pieces might get moldy and you do not want that. If you do not have a special glass weight to push it all down, you can look up on how to make DIY fermentation weights on the internet.
What is very important is that the lid should close well, but there needs to be a way for the CO2 to escape. You can use an airlock (from a homebrewing store, for example) or the special lids you see in the picture. Fermenting without this might result in exploding jars!
Leave your fermentation pot in a dark place at room temperature. After a couple of days, you should be able to see some bubbles between the vegetables, especially when you unscrew the lid just slightly.
Let it ferment for about 5 days. If it's warm out, you can reduce it by a day.
Finishing
Take out the weights that you used to keep the vegetables submerged.
Add the vinegar and sugar and stir it well.
Optionally, divide the vegetables over smaller jars. Make sure they are clean and close well.
Store the finished product in your fridge. It should be good for a couple of weeks.
Eat it on everything.
Enjoy!