This dish has so much flavor that it can almost work as a main dish. It's easy and very quick to make and will make you feel like you're eating in a restaurant. Since andaliman is a cousin of the Sichuan pepper, we were inspired to make a Sichuan-oriented dish. It has some heat (that is adjustable), but the andaliman really brings out the most flavor.
Andaliman dry-fried green beans
for 2 persons as a main or 4 as a side dish
20 minutes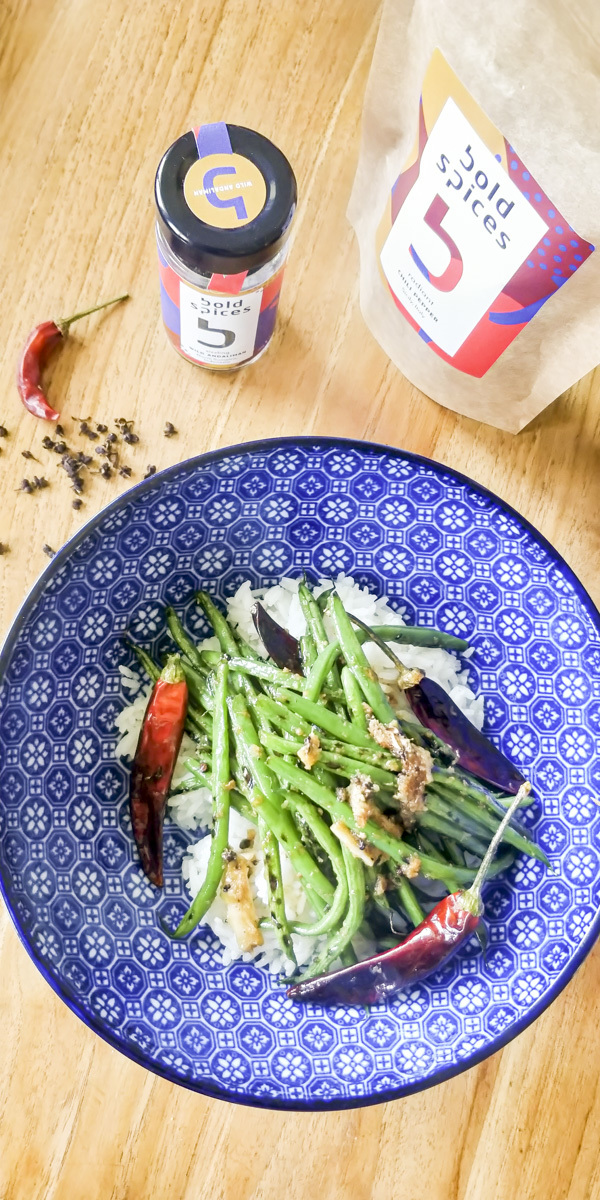 Ingredients
300g green beans
2 tbsp oil for frying
2 tsp andaliman pepper crushed (see instructions)
2-6 Sicilian red chilies (depending on how hot you like it)
2 cloves garlic, crushed
3 cm ginger chunk, grated
1 tbsp soy sauce
1 tbsp Shaoxing rice wine
1/2 tsp sesame oil
Instructions
You can crush the andaliman lightly with either your fingers or with a mortar and pestle. This allows you to remove the largest twigs. You want to end up with about two 2 tsp crushed andaliman.
Cut the ends of the green beans and blanch them into salted boiling water for about 1-2 minutes. Take them out and place them in a colander to let them dry completely.
Heat a wok or a large pan with a thick bottom on hight heat. When it's hot, place the beans in the pan with a pinch of salt. Move them around until they start to show some small dark spots. This should take about 4-6 minutes. Take the beans out when done.
Lower the heat, add the oil to the pan, and add the andaliman and chillis. Make sure to keep it moving, because the pan is probably very hot still. Cook for 2 minutes max. Then add the garlic and ginger and fry for two more minutes.
Then add the beans, the soy sauce, rice wine, and sesame oil. Toss it around so everything is well covered in flavor.
Serve on white rice. Enjoy!