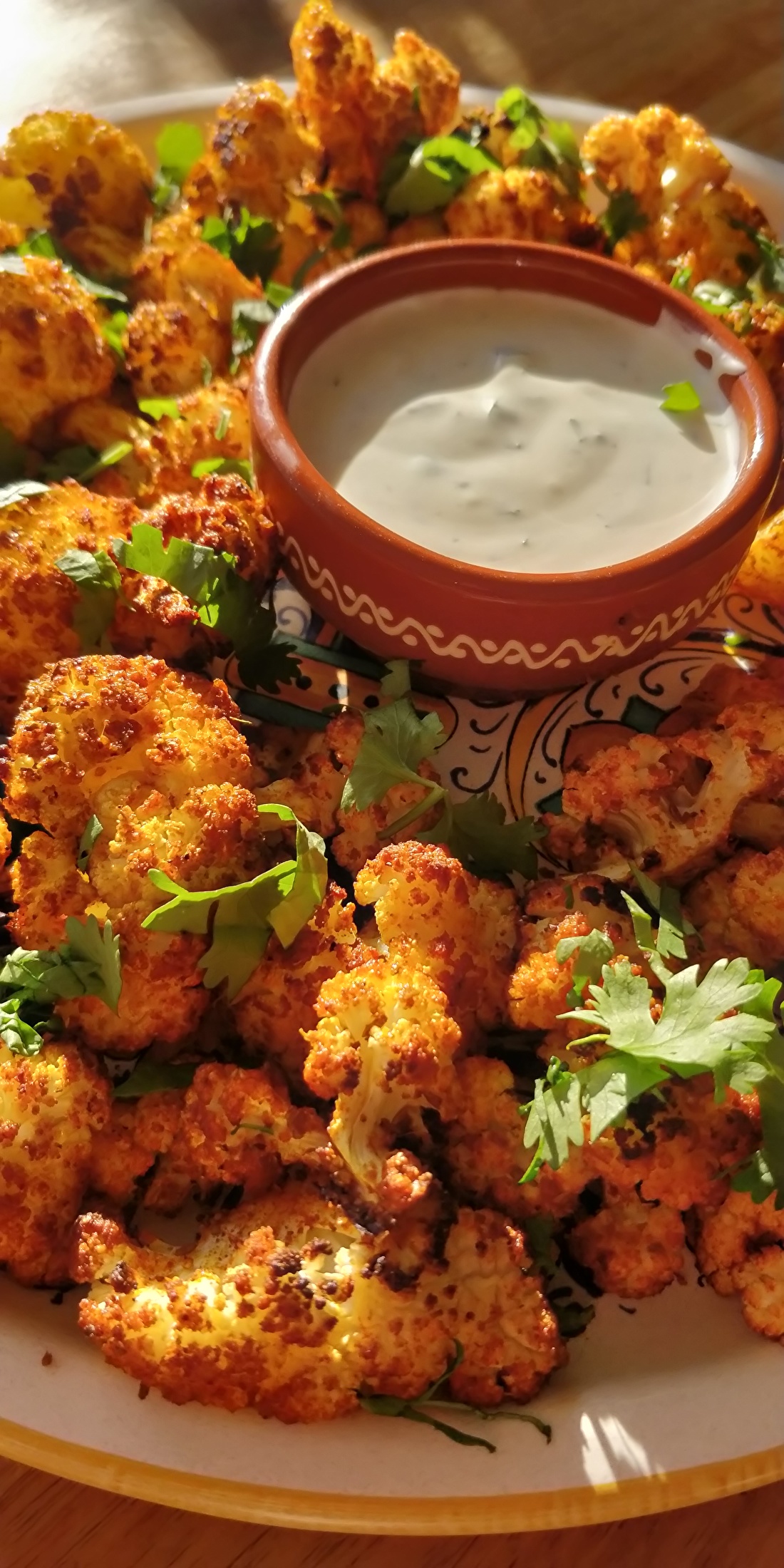 Well seasoned roasted cauliflower can convince even cauliflower haters to love it! The roasting process gives it a great texture and nutty flavor and the spices do the rest. The dish is super simple to make and you can either serve it with a yoghurt dip as a tasty starter or as a side dish. It's so tasty that you would almost forget it is pretty darn healthy too! We encourage you to play around with the spices you use, but you can use the recipe below a base.
Cauliflower bites
for 4 people
15 minutes preparation, 25 minutes oven time
Ingredients
1 medium-sized cauliflower head
2 tbsp olive oil
1 tsp salt (you can always add some more when it's done)
1 tsp ground turmeric
2 tsp cumin seeds
2 tsp coriander seeds
1 tsp smoked paprika (or use smoked chipotle for an extra kick!)
1 tsp cayenne (add more or less according to the spiciness you like)
1 tsp freshly ground Tellicherry pepper
1 tbsp cut cilantro or parsley (optional)
Yoghurt dip (Optional. Just add all ingredients in a small serving bowl and mix it up)
1/2 cup yoghurt (or vegan yoghurt)
1 tbsp mayonnaise (optional)
1 small clove of garlic, grated or pressed
some freshly ground red Kampot pepper
dash of ground cumin
1/4 tsp salt
dash of nice extra virgin olive oil
1/2 tbsp cut cilantro or parsley
a squeeze of lemon juice
Instructions
Preheat your oven to 200°C. Cut the cauliflower into bite-sized florets, about 3-5cm wide and place them in a large bowl. Add the olive oil and toss, making sure it's well distributed. Grind the seeds in a spice mill or mortar & pestle. Add all spices and salt in a small bowl and mix. Add half of the spice mix to the cauliflower and mix it in. Add the rest of the spice mix and make sure it's all well distributed.
Add the cauliflower to a baking sheet or a sheet of baking paper and place in your oven for about 25 min. It's not completely necessary, but for more even browning you can flip the pieces halfway. Before taking the cauliflower out of the oven, check if it has some nice brown edges. If not, you can add a couple of more minutes under the grill or using hot air if you have this available. Keep an eye on it as it can burn quickly at this stage.
Serve on a pretty plate and sprinkle some cilantro or parsley on top. If using, place the yoghurt dip in the middle and share the goodness with your friends or family!